(credit: COMO Hotels and Resorts)
When you need to get away from it all, traveling to a remote location provides the much needed break from the everyday norm. A place to truly escape and get away from the buzzing of your phone and the business of everyday life in order to find calmness and privacy. To find these special hotels and resorts, it takes a little more than hopping on a plane and arriving at the destination. When the journey to the destination is half the fun of the adventure and the end-point is somewhere special, these hotels and resorts are truly secluded and far away from the bustle of everyday life. Often needing a hop, skip and even a jump to get to these secluded hideaways, these hotels and resorts are located in some of the most remote corners of the planet.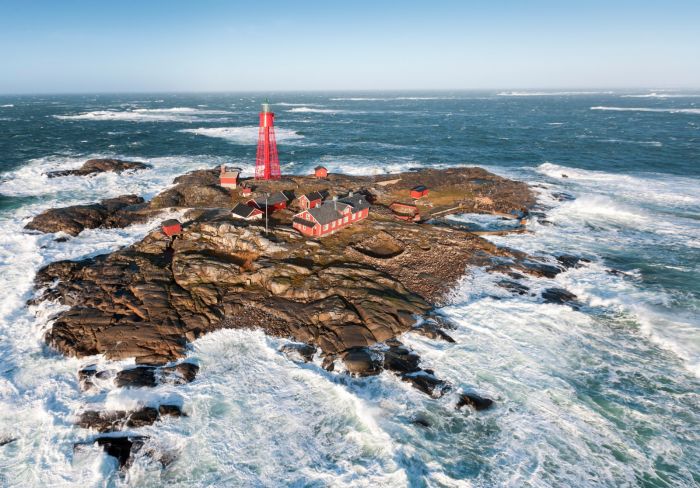 (credit: Erik Nissen Johansen)
Pater Noster (Hamneskär, Sweden)
Located at the tiny island Hamneskär outside Marstrand on the Swedish West Coast, Pater Noster is Sweden's most famous and spectacular lighthouse. On one of Sweden's most windblown, barren and exposed places, Pater Noster was constructed in 1868 and given the name Pater Noster as a tribute to the sailors' prayers. For almost 110 years, generations of lighthouse keepers lived with their families in this extreme environment allowing recently Swedish entrepreneurs, hoteliers, restaurateurs, designers and professional sailors to breathe new life into the master's old home. Inclusive of nine guest rooms, a restaurant, bar and outdoor cafe, Pater Noster features a rich nautical design and can be reached only by boat or helicopter. Rates start at $560/night.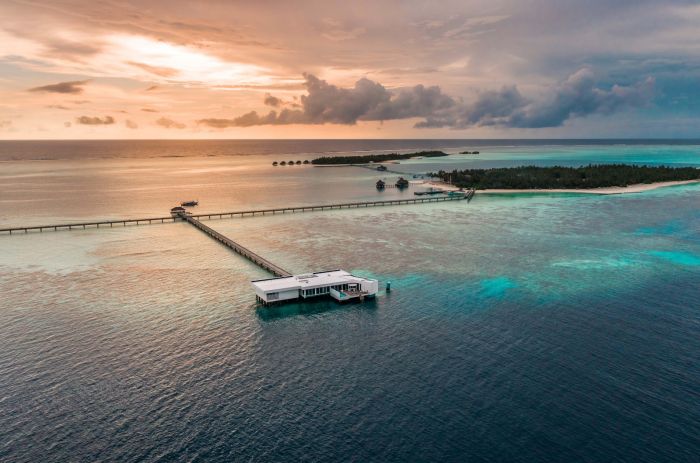 The Muraka at Conrad Maldives Rangali Island (South Ari Atoll, Maldives)
The first-of-its-kind, the Muraka at Conrad Maldives Rangali Island is the world's first three-bedroom residence with over and underwater bedrooms. As part of the Conrad Maldives Rangali Island resort located in South Ari Atoll, guests arrive at the Velana International Airport (and are escorted by resort staff to the Conrad Lounge) and then are whisked on a 30-minute seaplane flight over the Indian Ocean to the remote island. A triumph of modern design and technology, The Muraka is a part of Conrad Maldives Rangali Island and is connected by a bridge from the main island, Rangali Finolhu. The sprawling residence presents an undersea master bedroom submerged over 16 feet below sea level, living space and bathroom. The Muraka VIP experiences start at $35,600/night and includes a personal butler, chef, wave boat, gym and a dedicated space for your entourage as well as a signature bar with unlimited beverages, choice of one set of iconic experiences, and private seaplane transfers.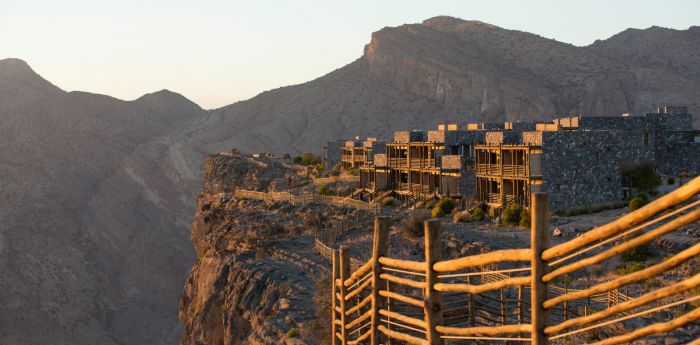 (credit: Alila Jabal Akhbar)
Alila Jabal Akhdar (Al Jabal Al Akhdar, Oman)
Located in the central section of the Al Hajar Mountain, Alila Jabal Akhdar is perched 2,000+ meters above sea level. Perfectly positioned to explore the region's renowned (and remote) rugged landscapes, the resort provides access to a magnificent landscape of untouched beauty and a haven for adventure travelers, nature lovers and those seeking an escape from city life. On Oman's highest mountain, Jabal Akhdar, meaning the 'Green Mountain" in Arabic, the resort is located 108 miles from Muscat International Airport, 2.5 hours' drive from Muscat. Inspired by ancient forts, traditional Omani construction techniques, the resort offers an escape to solitude and lies close to an extensive upland plateau surrounded by craggy summits and steep gorges. The property is part of the Al Hajar mountains range, one of Oman's most spectacular areas.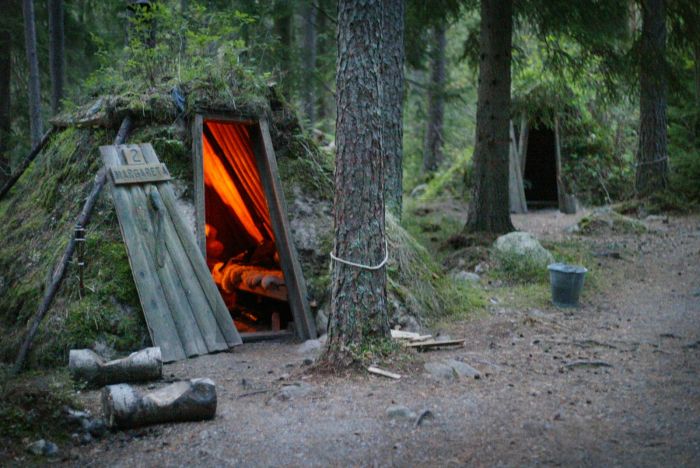 (credit: Mikaela Larm)
Kolarbyn Eco-lodge (Skinnskatteberg, Sweden)
Known as Sweden's most primitive hotel, Kolarbyn Eco-lodge presents an unforgettable experience which can be reached only by train or bus. For those who truly want a wilderness experience and go back in time, guests are set in a dense beautiful forest with twelve well camouflaged-cabins covered in mud and grass. An ecolodge in its true sense, there will be no electricity, no showers, nothing fancy at all, just natural mysteriousness with a concerted effort on preserving the nature and culture you have come to experience. Although the lodge can be reached by car, most opt to arrive by train from Stockholm to Köping, and then jump on bus No. 550 to Skinnskatteberg for a nearly two-and-a-half-hour journey. At the lodge, there are an abundance of nature activities, a survival course and a number of expeditions to be had.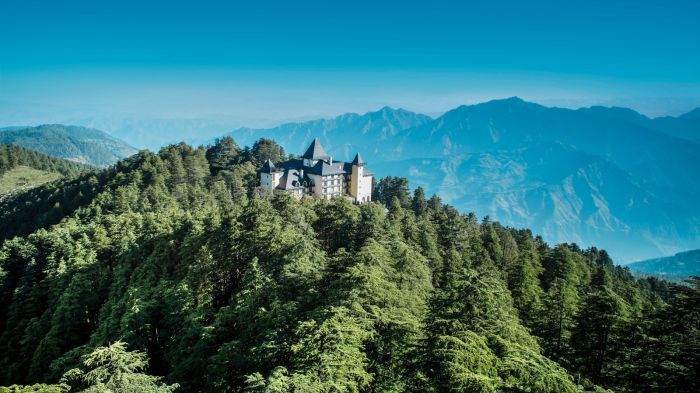 (credit: Oberoi Hotels & Resorts)
Wildflower Hall, Shimla– An Oberoi Resort (Shimla, India)
The former residence of Lord Kitchener, erstwhile commander in chief of the British army, Wildflower Hall Shimla exudes the ambiance of a grand stately home. Consistently rated at the top or one of the top of India's best spa resorts, it is set in 22 acres of virgin woods of pine and cedar amidst rugged mountains and snow-clad peaks of the Himalayas. At 8,250 feet above sea level, the resort features luxurious amenities which include an opulent spa, a snooker and billiards room, a well stocked library and due to its location in Shimla, it is a popular destination for trekking, mountain biking and heritage treks. To get there, travelers have five different options with three of them being a five-hour drive from Chandigarh International Airport; a one-and-a-half drive from Shimla Airport; or an hour drive from Shimla Railway Station. International visitors to India must register with the Foreigners' Regional Registration Office within 24 hours of arrival.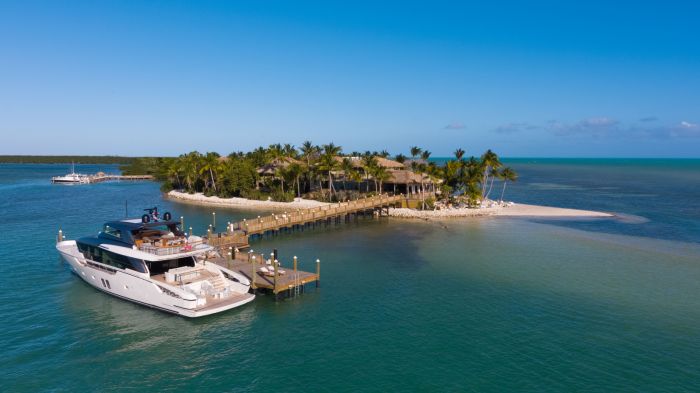 (credit: Little Palm Island Resort & Spa)
Little Palm Island Resort and Spa (Little Torch Key, Florida)
Situated on a four-and-a-half acre private island in the Lower Florida Keys, Little Palm Island Resort and Spa features 30 private oceanfront suites in thatched-roof villas. A favored escape for luxury travel enthusiasts, CEOs and Hollywood's elite, the island is never inhabited by more than 60 guests at a time. A true island escape, only accessible by boat or seaplane, the resort is set on a lush, private island dotted with crushed seashell paths amid verdant tropical foliage and exotic wildlife. Out-of-town travelers can fly in Key West International Airport, before taking a short scenic drive to Little Torch Key where guests will check-in to the newly renovated Welcome Station. From there, guests will enjoy a leisurely 15-minute shuttle to the Island via complimentary motor-yacht. Guests can indulge in world-class cuisine in the Dining Room and take part in the long-standing tradition of keeping televisions and telephones out of the guest rooms and public areas in an effort to restore guests' spirits and ignite their senses.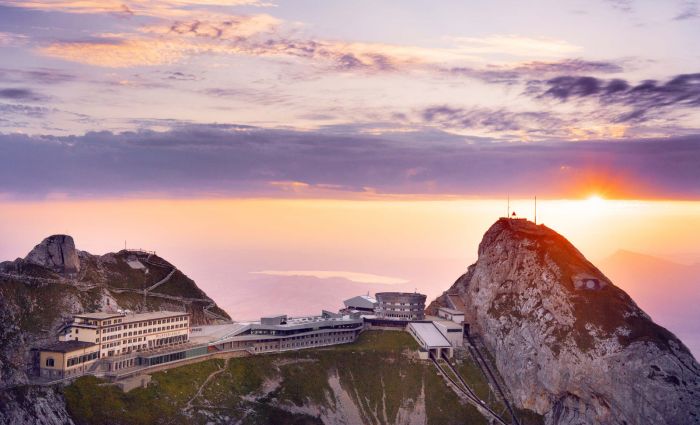 (credit: PILATUS-BAHNEN AG)
Pilatus Kulm Hotels (Kriens/Lucerne, Switzerland)
On the top of the steepest railway in the world (Pilatus railway with a gradient of up to 48 percent) Hotel Pilatus-Kulm is a historic mountain hotel which was built in 1890 and completely renovated in 2010. Featuring a total of 50 rooms and suites with breathtaking views of the Alpine panorama, nowhere do the stars shine more intensely and the sunrises are more spectacular than on top of this stunning peak. Situated on Mount Pilatus at 6,995 feet above sea level, Zurich Airport is 32 miles from the property, which is where guest's journeys begin. Upon arrival at the airport, guests then take the train to Lucerne, from where they reach the valley stations.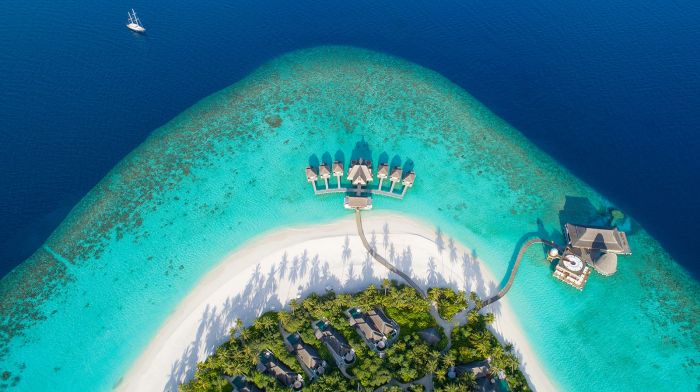 (credit: Anantara Kihavah Maldives Villas)
Anantara Kihavah Maldives Villas (Kihavah Huravalhi Island, Maldives)
Anantara Kihavah Maldives Villas is located in the Baa Atoll, in a UNESCO Biosphere Reserve. The private island resort features 80 beach and over-water pool villas and residences, the Maldives' only over water observatory and a sublime underwater dining experience at SEA. Surrounded by a spectacular turquoise lagoon and encircled by a pristine fine beach, the resort is accessible by a 35-minute seaplane transfer from Male, the capital island of the Maldives. Each hideaway boasts large infinity pools, dining pavilions, expansive wooden sundecks and ample lounging areas complete with swinging daybeds, hammocks, and sun loungers. Setting a new precedent in naturally inspired design and luxurious living, this island sanctuary is home to one of the newest collections of the largest private pool residences in the world. Consisting of two units of two-bedroom overwater pool residences, and five units of two-, three- and four-bedroom beach pool residences, this exclusive collection is the pinnacle of palatial seclusion, ideally suited for multi-generational vacations and larger group travel. The resort is also an astronomer's paradise due to its proximity to the equator, whilst its house reef teems with hundreds of species of tropical fish, hawksbill turtles, reef sharks and eagle rays.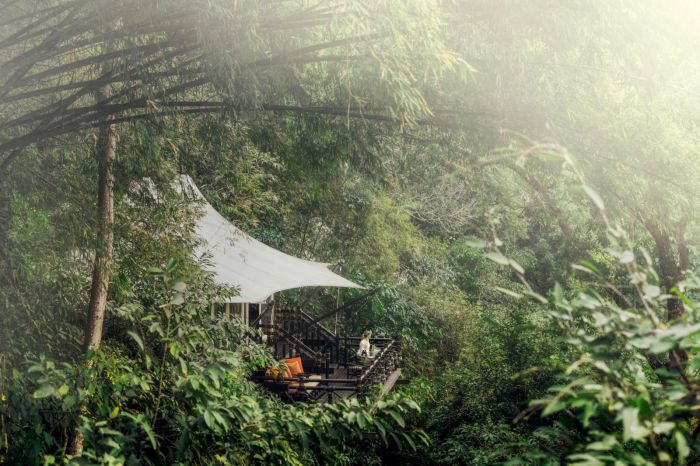 (credit: Four Seasons Tented Camp Golden Triangle)
Four Seasons Tented Camp Golden Triangle (Chang Rai, Thailand)
In the heart of the Golden Triangle (where the borders of Thailand, Laos, and Myanmar meet at the confluence of the Ruak and Mekong rivers) lies the private and luxurious Four Seasons Tented Camp Golden Triangle. Comprising 15 luxurious, fully air-conditioned, customized tents and an Explorer's Lodge, the exclusive resort provides guests the opportunity to be surrounded by the natural surroundings and activities surrounding its rehabilitated elephants, traditional programs at its outdoor spa and tailor-made off-site and day visits. As it is set in mystical jungles at the golden triangle, the only way for guests to arrive at the camp is by the long tail boat on the mighty Mekong River. Prior to this boat ride, guests must fly into Bangkok (DMK or BKK) then a short flight to Chiang Rai International Airport (CEI) and then a 70-minute drive to the camp.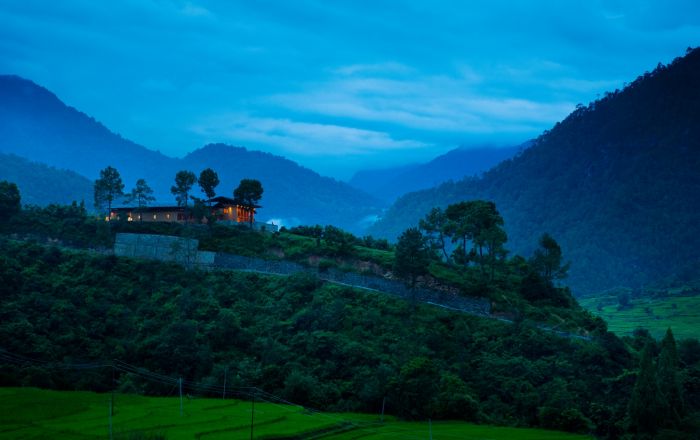 (credit: COMO Hotels and Resorts)
COMO Uma Punakha (Punakha, Bhutan)
Opened in September 2012, COMO Uma Punakha is an 11-room resort lodge is set into the hillside overlooking a bend at the scenic confluence of the Mo (mother) and Po (father) Chhu rivers. Located at the far western end of the lush Punakha Valley, COMO Uma Punakha is a five-hour drive from COMO's Paro resort (where Bhutan's major international airport is also located). Ideally located for those who wish to explore this remote Himalayan Kingdom, it is one of the country's most productive districts, thanks to its year-round mild climate which is suitable for fruit growing, as well as beautiful with its fortress-like monasteries. Best to visit in spring (March to April) and again in autumn (September to November), the resort presents distinct itineraries like a scenic heli-adventure and Himalayan explorer adventure, guests can take advantage of a plethora of hiking trails, practice yoga and meditation and experience a range of holistic, Asian-inspired treatments at their spa.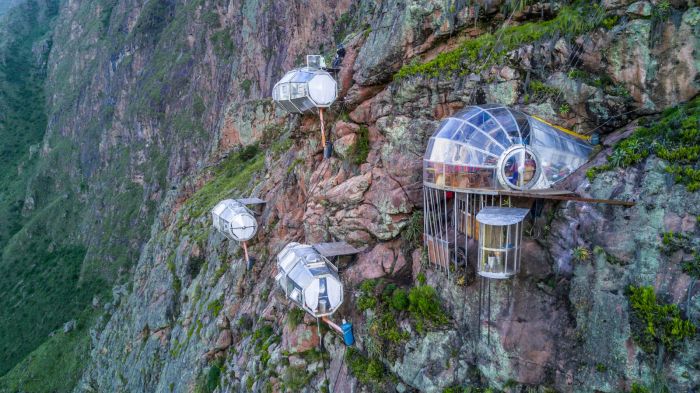 (credit: Natura Vive)
Skylodge Adventure Suites (Cusco, Peru)
At Skylodge Adventure Suites, guests can sleep within a completely transparent hanging bedroom in the Sacred Valley of Cusco, Peru. Composed of three exclusive capsule suites with a total capacity of 12 people (complete with four beds, a dining area and a private bathroom), the suites are situated 1,200ft above sea level along the mountain range. Once arriving in Cusco, travelers are picked up by car, encompassing a one hr journey, to Pachar a small town 15-minutes from Ollantaytambo. Once arriving in Pachar, there are two ways to get to the Skylodge; either by climbing 1,200ft of Via Ferrata or by hiking a one-hour hike trail through ziplines.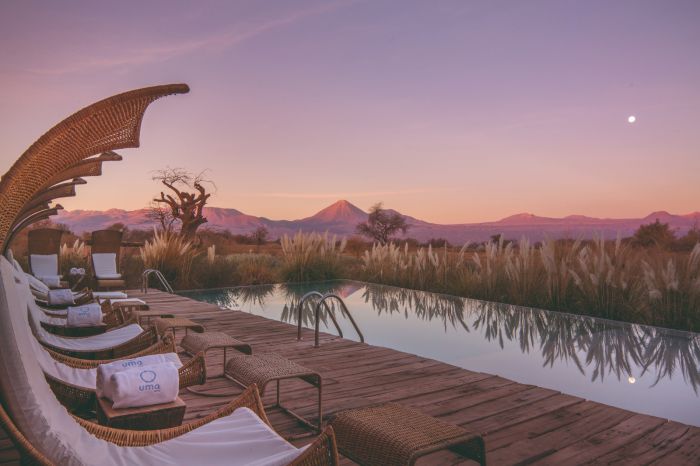 (credit: Courtesy of Tierra Hotels)
Tierra Atacama Hotel & Spa (Antofagasta, Chile)
High in the northern desert of Chile, Tierra Atacama Hotel & Spa presents a sense of both adventure travel and pure relaxation with clear night skies, high altitude lagoons and moon-lit valleys. Designed by some of Chile's most renowned architects, with regional sensibilities and an eco-friendly design, Tierra Atacama provides an all-inclusive stay. Whether your focus is on reenergizing and relaxation, a romantic getaway or an excursion-filled adventure, the resort presents personalized plans which include offerings such as horseback riding to volcano hiking, as well as soothing sessions in the Uma Spa. Located in the Northeast part of the country on the edge of San Pedro de Atacama, travelers must travel first to Santiago and then take a local flight to Calama, 932 miles to the north. From there, the resort's transportation services will take you on an hour drive through the amazing desert landscapes until arrival at the San Pedro oasis, a green town in the middle of the driest desert on Earth.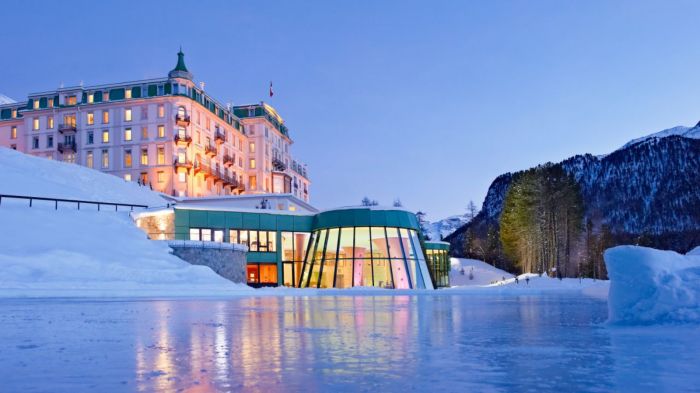 (credit: Grand Hotel Kronenhof)
Grand Hotel Kronenhof (Pontresina, Switzerland)
Majestically set in the picturesque Alpine village of Pontresina, away from the crowds in nearby glitzy St. Moritz, Grand Hotel Kronenhof is one of the world's top luxury and wellness resorts. Offering guests 112 luxuriously appointed guest rooms, a state-of-the-art Kronenhof Spa and activities including traditional bowling in the cosy alley and rounds of golf on the neighboring Kulm Golf course, Grand Hotel Kronenhof craftly mixes wellness and tradition. Situated in a wind-sheltered side valley at nearly 6,000 ft above sea level, the neighboring village is home to charming Engadine houses and elegant Belle Epoque hotels. To get to the hotel, elite travelers can fly directly to Pontresina or fly to Zurich or Milan and drive to Pontresina (2hrs 40mins) or fly to Zurich, take the direct train to St Moritz (about three hours) and take a short train (nine-minutes) or taxi to Pontresina.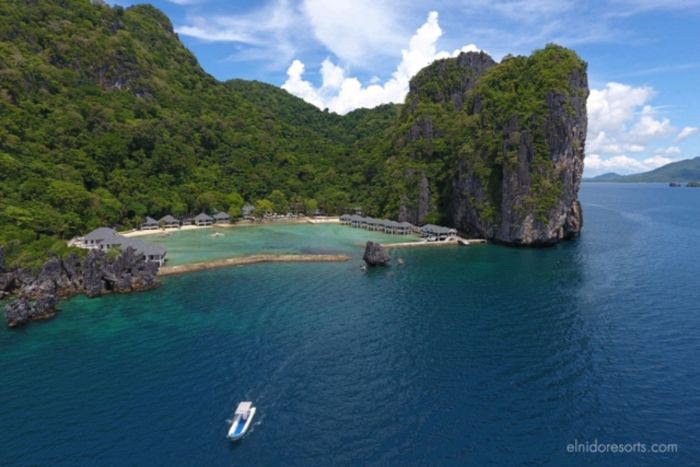 (credit: El Nido Resorts, Lagen Island)
El Nido Resorts, Lagen Island (Lagen Island, Philippines)
El Nido Resorts,Lagen Island in the province of Palawan in the Philippines, an archipelago comprising 1,780 islands and the least densely populated area in the country. Often dubbed 'the last ecological frontier of the Philippines' due to its untouched landscapes and extraordinary biodiversity, Lagen Island is set between a lush four-hectare forest and a tranquil, shallow and transparent lagoon. With 51 private guest rooms clustered around the lagoon providing absolute repose and privacy and an exclusive resort spa, guests can also get active with an astounding array of sports (water and land) and leisure activities. From wherever travelers start, they fly to Manila or Cebu airports then take a one to two-hour flight to Lio Airport in El Nido. The last leg is a 45-minute boat ride that takes guests to Lagen Island.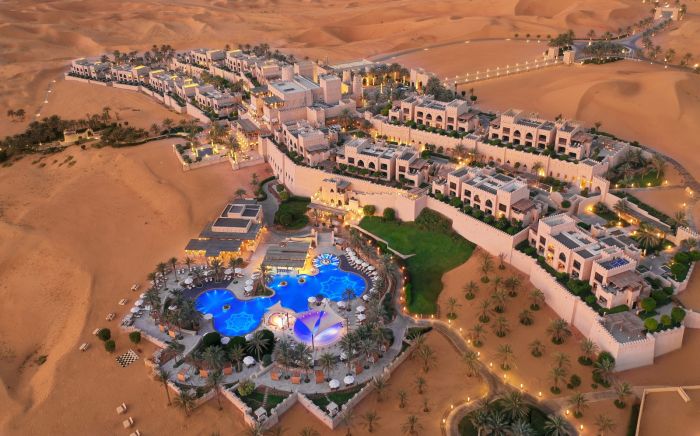 (credit: Qasr Al Sarab Desert Resort by Anantara)
Qasr Al Sarab Desert Resort by Anantara (Abu Dhabi, UAB)
Qasr Al Sarab Desert Resort by Anantara is a secluded oasis near Abu Dhabi and is set in the world's largest sand desert – the Empty Quarter. Beckoning travelers to experience a true desert oasis, the resort features a selection of 206 rooms, suites and pool villas and presents a platform for guests to create memorable moments in the desert. The resort rises from the sandy flame-colored dunes of the Rub' Al Khali like a mirage, inviting adventure in the most luxurious of styles from fine dining, camelback riding, sandboarding, wellness offerings (including a Moroccan hammam and desert spa rituals) at their spa sanctuary and a truly intimate and exclusive experience of serene expression of Liwa culture at Camp Nujum. Located just over a two-hour drive from Abu Dhabi International Airport through the desolate sandy desert, the resort's untouched backdrop is an ideal getaway in the middle of the desert.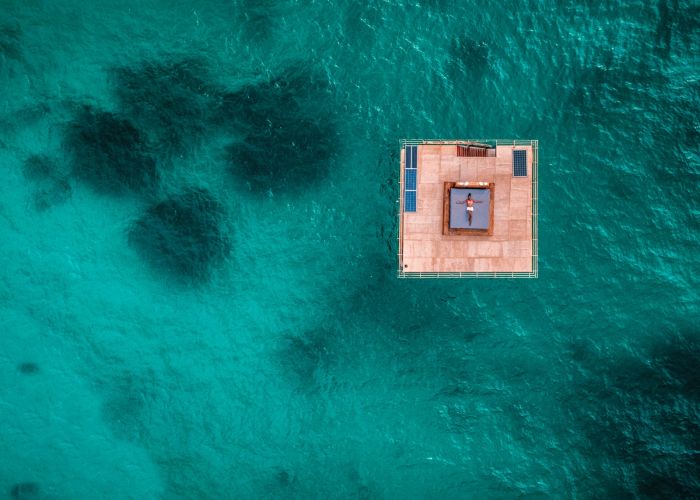 (credit: The Manta Resort)
The Manta Resort (Pemba Island, Tanzania)
In the northernmost island of Tanzania's Zanzibar archipelago, The Manta Resort is on Pemba Island which lies approximately 50 km east of mainland Tanzania and 50 km north of Unguja. The barefoot luxury retreat allows guests to feel the simplicity of a naturally evolved traditional Swahili island culture folded into the edge of a primitive forest and set on rising land overlooking the purest, most turquoise waters. As there is only one main tarred road through the middle of the island, guests can only get to the island by scheduled charter flights and can be accessed via most airports in East Africa via Zanzibar or Dar es Salaam. Upon arrival at Pemba Airport (PMA), guests take a bumpy one-and-a-half-hour drive (known as the Pemba massage) to the very northern tip of the island. Amongst a plethora of marine and land excursions, unique to the resort is the underwater room where guests can experience the fascinating shifting lights of the water, the ebb and flow of the tide surrounded by corral.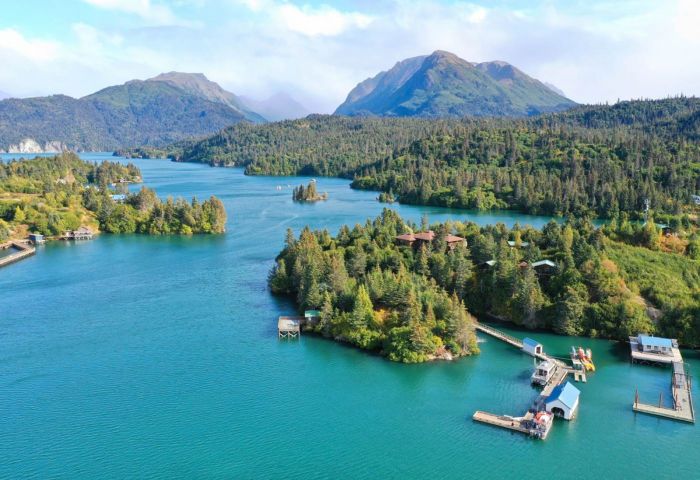 (credit: Stillpoint Lodge)
Stillpoint Lodge (Halibut Cove, Alaska)
Redefining the Alaska experience, Stillpoint Lodge is located on the edge of the wilderness at the foot of Kachemak Bay State Park. To get there, guests must first go to Homer (HOM) Alaska where they are met by the Stillpoint Lodge team and transferred to the Homer harbor. From there you board a private heated boat to venture across the bay, while witnessing the majestic view of whales escorting you to Halibut Cove (when they are in the bay), an easy 25-minute boat ride. The lodge sets out to redefine the Alaskan experience with the comforts of luxury in a breathtaking location that encourages sustainability, exploration, adventure and pure fun. Guest's enjoy private cabins with views of the ocean and mountains plus on site amenities like ax throwing, on site watersports and cooking lessons. Guests can enjoy an abundance of outbound excursions from witnessing brown bears as they fish for breakfast in the waterfalls, kayaking around ancient glaciers and much more. Rates start at $2,200 per person, per night all-inclusive.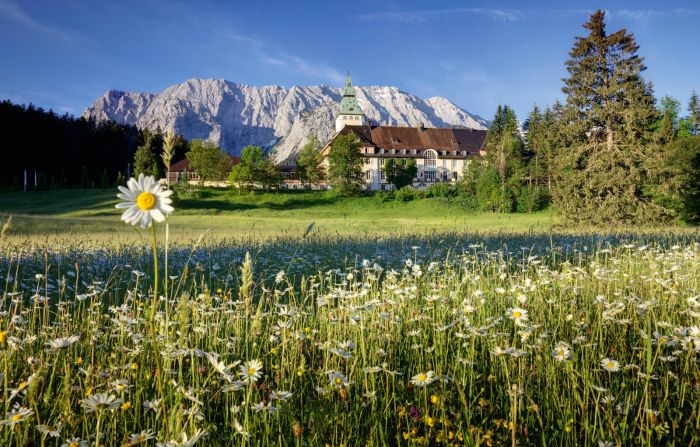 (credit: Schloss Elmau)
Schloss Elmau (Krün, Germany)
Schloss Elmau is located deep in the Bavarian Alps and presents a backdrop filled with the deafening sounds of silence and rushing streams in a bespoke magical sanctuary. In a location filled with crystal clear lakes, babbling brooks, lofty peaks, famous museums and churches, authentic Bavarian villages and all the fairy tale castles of King Ludwig II, guests can unwind in one of their 115 rooms and suites and enjoy five restaurants, a concert hall, the largest bookstore in any hotel in Germany and more. One of the most secluded and luxurious spa resorts in the world, it offers six separate and lavish spas, an abundance of wellness activities and an Oriental Hamam. With a history dating back to 1916; it then reopened in 2007 (after the fire that almost completely destroyed the castle) and the Retreat opened in 2015, to the spa resort is an excellent destination for both summer and winter sports as well as world-class concerts in the Concert Hall. The resort is about an eight-hour drive from Berlin and about two-hour drive from Munich.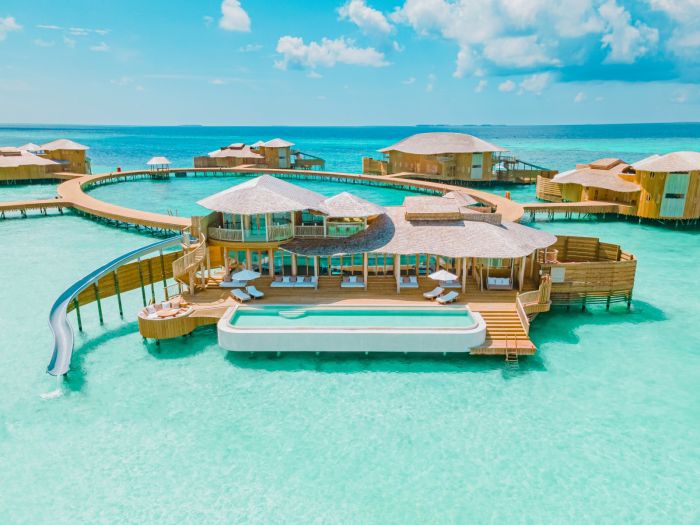 (credit: Soneva)
Soneva Jani (Medhufaru Island, Manadhoo, Maldives)
Soneva Jani's newly unveiled Chapter Two presents over-water luxury off of Medhufaru Island in the Noonu Atoll, comprising 27 water villas, each with its own private pool and opens to its own stretch of the lagoon. All guests staying in any of these villas can truly indulge in its 'Soneva Unlimited' (with unlimited signature experiences) offering, or along with seeing the Maldives' first overwater film screen, the overwater Cinema Paradiso, tennis courts and a beach located on a deserted island in the lagoon. Whether swimming with turtles, learning and crafting a true garden to table dining experience or going on a sunset astronomy cruise, no trip to Soneva Jani is complete without a visit to its beautiful spa. Lying about 430 mi from the continent of India and on one of 26 private atolls in the Arabian Sea, to get to Soneva Jani from the US, it is about a 28-hour journey from NYC. Travelers usually fly through Doha, Qatar, and then to Male, where they then change to the local airport, and then catch a local flight closer to Soneva and then a ferry to the property.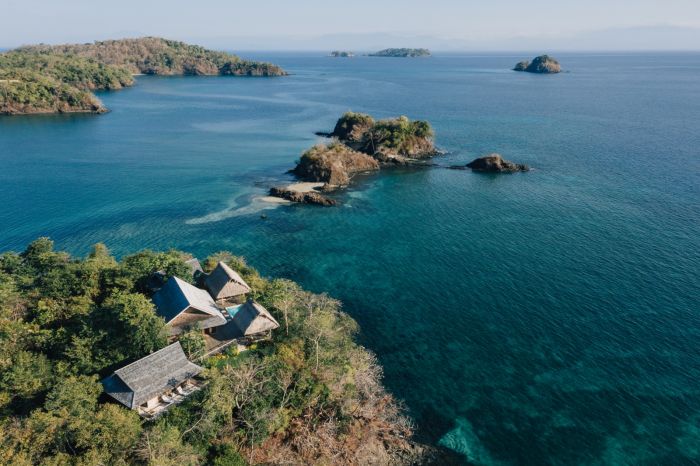 (credit: Islas Secas)
Islas Secas (Isla Secas; Gulf of Chiriquí; Panama)
20 miles from the nearest civilization, Islas Secas is a privately-owned archipelago of 14 beautiful islands in the Gulf of Chiriquí and is home to just four individually designed Casita sites and three brand-new Tented Casitas. Along Panama's Pacific coast, this unique destination is home to one of the largest coral reefs in the Pacific, two vast protected marine parks and presents a truly untouched 'marine playground' for guests. With a maximum of only 24 guests at a time, the barefoot luxury retreat is the perfect playground for water and land activities and also allows guests to unwind, recharge and reset. Guests first arrive in Panama City and then take a direct one-hour flight from Panama City to the Secas Archipelago aboard Islas Secas's brand-new Twin Otter private plane transfer service (operated by Air Panama), seating up to 15 passengers per trip.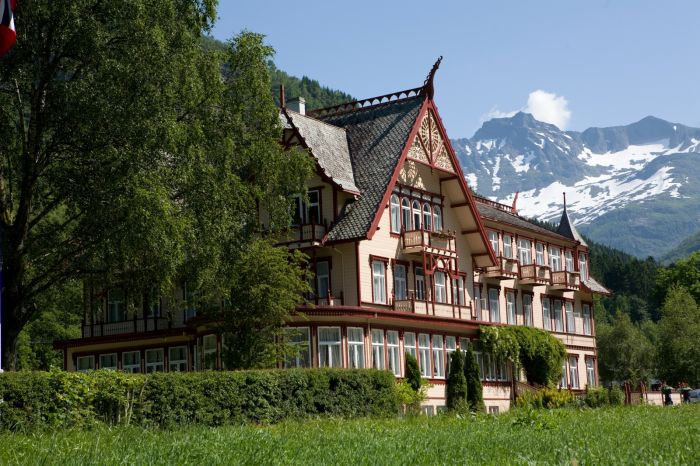 (credit: Magnus Nordstrand)
Hotel Union Øye (Norangsfjorden, Norway)
With history dating all the way back to 1891 by the Norangsfjord, Hotel Union Øye, is located in the remote small village of Øye. The rural mountain lodge offers true tranquillity in magnificent surroundings and is a gateway to some of the most beautiful hikes in the world. With only 30 rooms, all of which are individually furnished with carefully selected antiques and named after notables who have stayed, guests are presented with privacy in a beautiful surrounding of lush greens and the mountain backdrop. After an extensive refurbishment which will include the addition of three new suites, six villas, a spa, conservatory, orangery and barn, the hotel tailors distinct itineraries pairing with local guides and experts to reveal the awe-inspiring beauty of the region. After a flight into Oslo, to get there you must fly to Ørsta Flyplass Hovden and then take a one-hour drive, which can be arranged through the hotel, to Hotel Union Øye.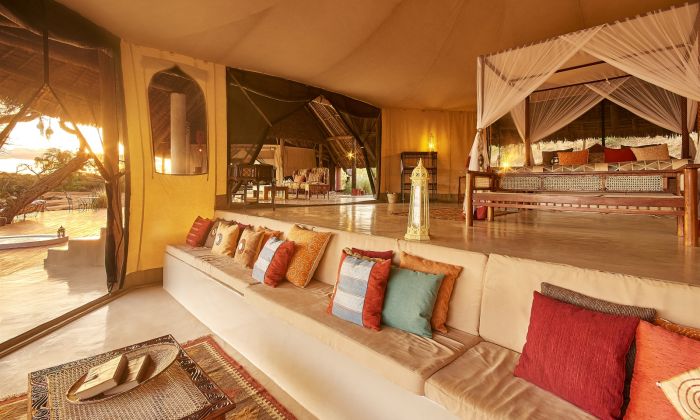 (credit: Sasaab)
Sasaab (Samburu National Reserve, Kenya)
Sasaab is part of The Safari Collection's four lodges and was born out of the need to create a community tourism project to help protect and preserve the remote wilderness in Kenya's Northern Frontier District. A place of rich, natural diversity and home to the Samburu tribe, the area is renowned for its visual appeal and utter remoteness close to the Buffalo Springs and Samburu National Reserves. Each of the nine Moroccan-styled rooms at Sasaab offers an enormous open-air bathroom and private plunge pool and views out to the surrounding varied landscape, which includes the 'Samburu Special Five': the Beisa oryx, reticulated giraffe, Grevy's zebra, Gerenuk antelope and Somali ostrich. In addition to the unbelievable wildlife spotting opportunities, guests can enjoy exhilarating activities including stargazing, camel rides, day treks and beauty treatments at the property's rejuvenating SpaSaab. Upon arrival to Nairobi, Kenya travelers then will take a two-hour domestic flight to Samburu and then a three and a half hour drive through the mountain slopes and alpine plateau.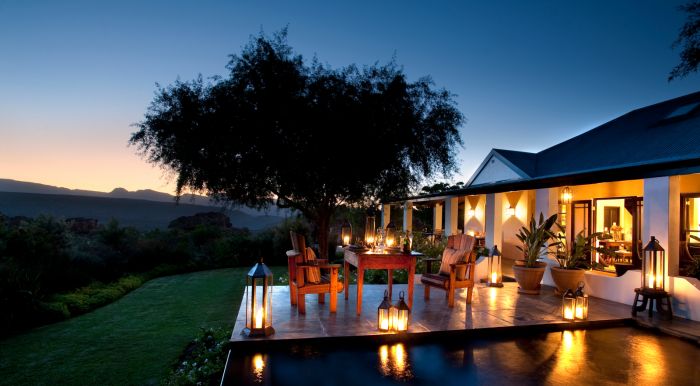 (credit: Bushmans Kloof Wilderness Reserve & Wellness Retreat)
Bushmans Kloof Wilderness Reserve & Wellness Retreat (Clanwilliam, Western Cape, South Africa)
Along South Africa's dramatic lesser-known west coast, Bushmans Kloof Wilderness Reserve & Wellness Retreat is set on over 7,000 hectares. A refuge for both body and soul it is set deep in South Africa's Cederberg Mountains and offers just 16 rooms and suites accommodating a maximum of 32 guests, two private villas Koro Lodge and Cederberg House can be booked for a bespoke experience. Amongst the open plains, sandstone formations and ancient bush art sites dating back 10,000 years, the wilderness retreat offers unique dining, outstanding nature experiences and inspiring activities all which have a tie to ancient African culture. The family-owned retreat is committed to conservation and social responsibility and presents a platform for which guests' can begin a natural wellness journey. To get there, fly into Cape Town and then take a three-and-a-half-hour drive across the Western Cape through to the foothills of the Cederberg Mountains. The final leg of the journey can be booked through the retreat by the Red Carnation Hotel team.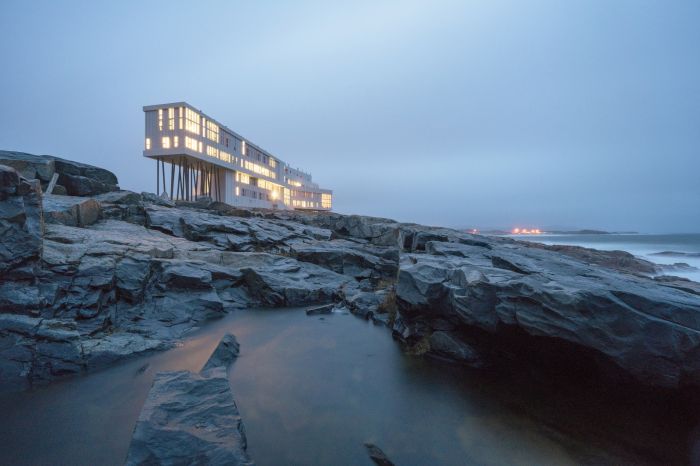 (credit: Bent René Synnevåg)
Fogo Island Inn (Joe Batt's Arm, NL A0G 2X0, Canada)
Fogo Island Inn sits on an island four times the size of Manhattan, off Newfoundland on the East Coast of Canada. The Inn boasts 29 one-of-a-kind rooms and suites, with floor-to-ceiling glass windows all offering expansive views of the powerful North Atlantic ocean. With a population of under 2,500 people, the island is a haven for respite and contemplation and its principles are built on sustainability and respect for nature and culture. For those looking to have a sustainable travel experience, which in its true form includes human, social, economic and environmental factors, Fogo Island Inn offers a holistic immersion into community development and cultural preservation. The best way to get to the island is to fly into Gander Airport, Newfoundland, be shuttled by the Inn to the ferry for a 50-minute ride through the channels to Fogo Island. Private air access is also an option as the island features a landing strip.